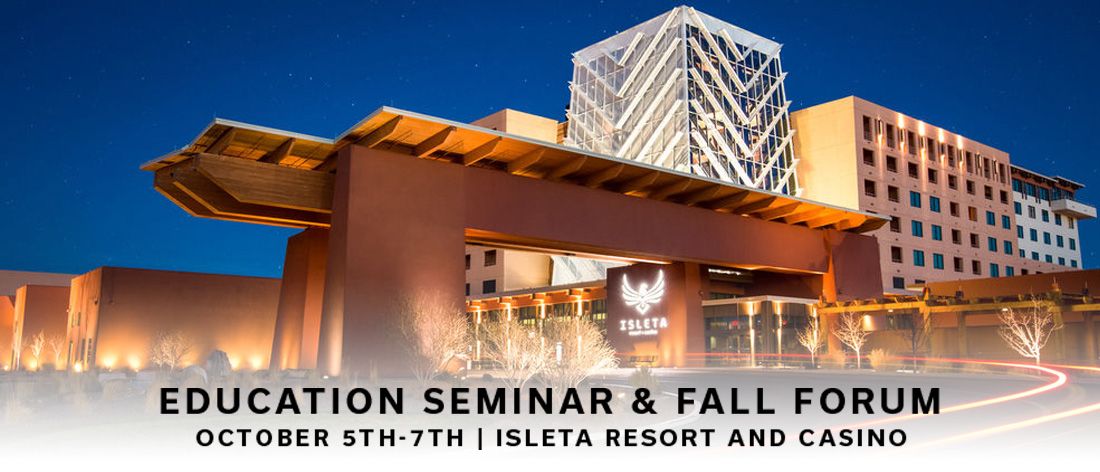 Chapter 53 invites you to
Elevate your Education!
Education Seminar & Fall Forum
October 5th-7th
Isleta Resort and Casino
www.isleta.com
11000 Broadway SE
Albuquerque, NM 87105
A block of rooms are being held at the rate of $129 +tax at Isleta Resort & Casino.
Reservation must be made by September 13.
Rooms include:
Complimentary Valet Parking and Airport/Rail Runner Transportation
Front Desk/Concierge Service 24 Hours
Complimentary High-Speed Wireless Internet Access
The Spa at Isleta*
Indoor/Outdoor Pool and Hot Tub**
Isleta Golf Club's 27 Hole Course
Fitness Center**
Room Service
Dining At Seven Resort Locations
Sundry/Gift Shop & Retail Store
In-rooms safes and Safety Deposit Boxes
Concert Showroom and over 50,000 Square feet of Meeting Space
Fun Connection (Bowling, Billiards & Laser Tag)
Isleta Lakes RV Park
Hotel Reservations
Please call Isleta Resort and Casino at 1-877-747-5382 and tell them your group code: SCM1017
RESERVE BY September 13 to get $129 rate!
IRWA Region 9 Fall Forum Educational Conference Agenda
8 credit hours towards the SR/WA re-certification will be earned by attending this conference
Friday October 6th, 2017
Morning
7:30 am to 8:00 am – Continental Breakfast/Sponsored by Chapter 53
8:00 am to 9:00 am – Appraisals – Ron Alfred, MAI, AI-GRS, R/W-AC Alfred Appraisal Group
9:00 am to 10:00 am – "Land Acquisition for Solar, a Business Model" – Fernando Vigil, SR/WA, Land Specialist and Laurie Moye Public Service Co. of NM PNM)
10:00 to 10:15 am – Break
10:15 am to 11:15 am – Environmental – Sharon Brown, Senior Scientist. Public Service Co. of NM (PNM)
11:15 am to 11:30 am – Q & A
11:30 am to 1:00 pm – Lunch/Sponsored by Chapter 53
Afternoon
1:00 pm to 2:00 pm – "The Intersection of Surveying, Title, Right of Way, and Engineering" – Tim Solinski, Professional Surveyor, Bohannan Huston Inc.
2:00 pm to 3:00 pm – "Water and Sanitary Line Route Selection from an Engineers Perspective" – Todd Burt, Professional Engineer, Bohannan Huston Inc.
3:00 pm to 3:15 pm – Break
3:15 pm to 4:14 pm – "Federal Rights-of-Way Permitting: Working with Federal Agencies and Sovereign Tribal Nations" Brandon Kauffman, Permitting Specialist, Public Service Co. of New Mexico (PNM)
4:15 pm to 4:30 pm – Q & A and Closing Comments
Saturday October 7th, 2017